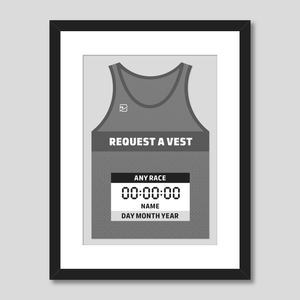 Request a new design for your personalised art print
This is a provisional order form to request a new art print design that is not currently available in our shop.
If you are looking to order a one-off personalised art print based on a vest / t-shirt or cycling jersey design that isn't yet available in our Shop then this is the place to be. Simply fill in the form above and complete the provisional order.

Once we have received your details, we will be in touch within 3 working days to discuss further.
We pride ourselves on obtaining and maintaining quality relationships with all clubs, charities and event organisers, and always liaise with relevant parties for approval relating to new designs.

Please upload a visual of the desired kit where possible for reference as this will speed up the process.
You will not be charged for this provisional order.

If you are looking to order one of our dual aperture prints, please click here.
If you are a club, charity or event organiser and would like to discuss adding your kit design to the website, we'd love to hear from you - please contact us here.
---